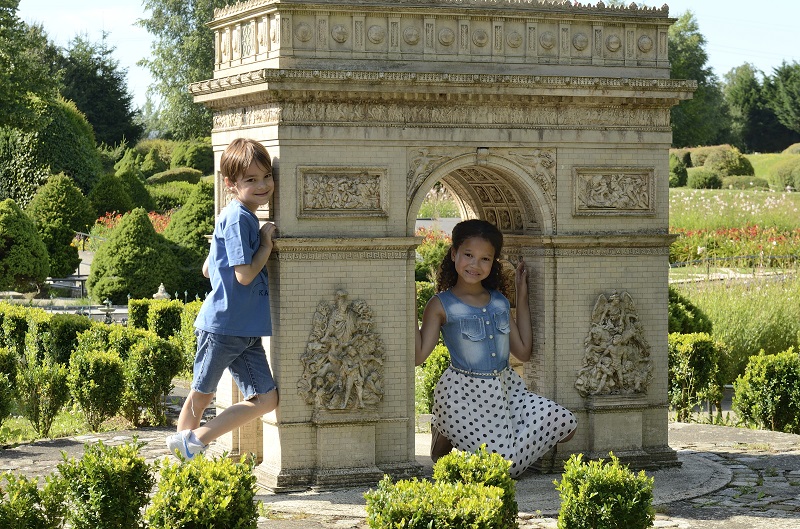 Proiectul 'Romania in miniatura' are ca scop cunoasterea, valorizarea si promovarea patrimoniului cultural al Romaniei. Poate fi vazut ca un muzeu in aer liber, dar si un itinerar istoric, cultural si artistic.

Multe orase au un asemenea parc tematic, insa in Romania nu exista asa ceva. Proiectul de fata vizeaza un parc care sa aiba forma Romaniei si unde sa fie expuse miniaturi ale monumentelor istorice, religioase, culturale, arhitecturale, ale naturii. Scopul e ca fiecare persoana care intra in acest parc tematic sa isi poata face o imagine despre istoria, cultura si geniul creator al poporului roman.

Impactul cultural ca de altfel si cel financiar sunt semnificative.
- in Bruxelles (Belgia) exista Mini-Europa (https://cutt.ly/cK362th), un parc tematic unde sunt reproduse in miniatura 350 de cladiri si monumente din 80 de orase din UE. Acest parc e vizitat anual de 350.000 de turisti si aduce un venit de 4 milioane de euro
- in Istanbul se afla Miniaturk (https://cutt.ly/pK36YGp), cel mai mare parc in miniatura din lume, continand 105 machete ale monumentelor istorice din Istanbul, Anatolia si fostele provincii otomane
- in Shenzhen (China) se gaseste Window of the World (Fereastra Lumii) (https://cutt.ly/PK36y9Q) care contine in jur de 130 de reproduceri ale obiectivelor turistice din toata lumea.
- France Miniature (https://cutt.ly/3K8q64o) e un parc ce are forma Frantei si expune in jur de 160 de monumente reprezentative ale acestei tari.
- Tobu World Square (https://cutt.ly/cK8rnXj) e un parc tematic in Kinugawa Onsen (Japonia) cu peste o suta de monumente in miniatura.
- Italia in miniatura contine 273 de miniaturi ale monumentelor celebre din Italia si Europa.
Lista poate continua chiar cu Romania in miniatura de la Cluj.
De ce ar trebui sprijinit/implementat proiectul
Parcul tematic va avea o functie educativa, aici putandu-se tine lectii in aer liber sau organiza itinerarii tematice. Acest aspect se adauga la imaginea Clujului de centru cultural si universitar. De asemenea parcul va intra intr-un circuit al parcurilor tematice din Europa si din lume.

Proiectul se adreseaza tuturor, indiferent de varsta, inclusiv turistilor straini care ajung la Cluj. Costurile de realizare a proiectului vor fi amortizate in timp sau chiar injumatatite astfel:
- taxa intrare in parc (venituri mai mici dar constante);
- inchiriere spatii comerciale (venituri mai mari);
- vanzare de materiale promotionale si publicitate.

Alte beneficii:
- atragerea de turisti si promovarea Romaniei;
- parcul se va adauga la celelalte branduri ale Clujului;
- dezvoltarea zonei in care va fi amplasat;
- locuri de munca sezoniere si permanente.
Amplasamentul proiectului
Parcul tematic poate fi amplasat in orice zona usor accesibila unde se poate amenaja atat situl propriu-zis cat si un spatiu destinat agentilor economici care vor sa profite de aceasta oportunitate. De asemenea trebuie avut in vedere si fluxul de turisti care vor ajunge din diferite colturi ale tarii si nu numai.
Galerie foto
Prezentare Video
Acest proiect are video atașat
Locație proiect
Proiectul nu are setat o locație exactă.